15 Nov 2022 / Online
Join REEPRODUCE during the SecREEts Final Conference on 15th November!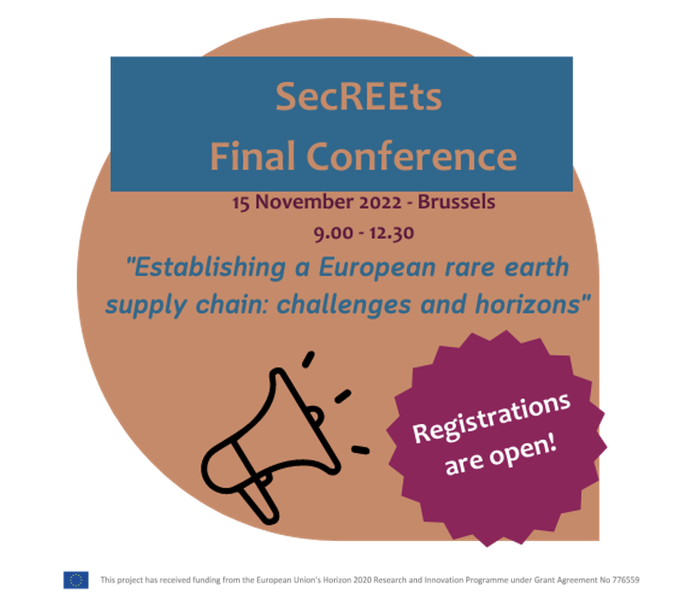 On 15th November, in the framework of the Raw Materials week,  the SecREEts Final conference  will take place. This event will gather 5 EU-funded projects (SecREEts project, H2020 SUSMAGPRO project, EIT project INSPIRES, H2020 project PASSENGER, and REEPRODUCE)  to discuss around the last report released on June 2022 by SecREEts:  Obstacles, Impacts and Recommendations for the future of the European rare earth elements value chain (link).
The report showcases the identified potential solutions for impact mitigation of the critical incidents for REE use & supply in Europe that were identified previously. The report has established the following recommendations for the future of the European REE value chain.:
 on the supply side, focus on substitution and recycling technologies (technical solutions),
 on the demand side, give priority to solutions that foster taming the demand in order to avoid overheating of the sectors,
 better coordination between EU/US, coordinated approach towards China and Russia,
diversification of supply chain, its integration and reinforced resilience,
awareness raising and proper consultation in decision-making processes (social impact).
Join our colleague Nader Akil (PNO Innovation Belgium) and learn more about the current situation of the European REE value chain.
LINK to access the meeting (Physical attendance now fully booked)
Learn more about the projects: