06 Dec 2022
The REEPRODUCE project at the SecREEts Final Conference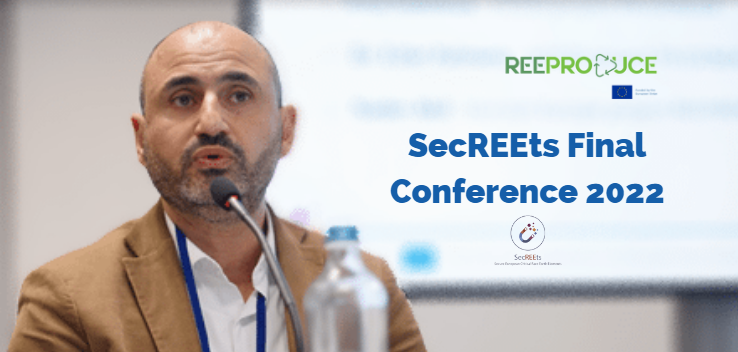 In the context of the
Raw Materials Week 2022,
the REEPRODUCE project participated in the SecREEts Final Conference 2022 together with other EU-funded projects. PNO Innovation Belgium, on behalf of the REEPRODUCE consortium, presented the project during the discussion about the European rare-earths value chain.
Over the past four years, the SecREEts project has been working to ensure a secure and stable supply of rare-earth elements (REEs) based on a sustainable extraction from European apatite sources used in fertiliser production. During the lifespan of the project, the consortium has carried out different engagement activities such as the Citizen Labs and the Policy Councils. 
On Tuesday, 15th of November, the SecREEts partners gathered in Brussels for the project's final conference to discuss the final achievements and lessons learnt. Invited at the SecREEts Final Conference, the REEPRODUCE consortium was represented by PNO Innovation Belgium. This was a special occasion to present the REEPRODUCE project and  listen to the objectives of the invited EU-funded projects: SUSMAGPRO, Inspires Magnet, and Passengers project.  In addition, the speakers had the opportunity to discuss the European rare-earths value chain.
REEPRODUCE in a nutshell 
Currently the EU depends mainly on imports of permanent magnets (PMs) as well as the REEs found in their composition, and there are no market-ready substitutes. In this context, the EU has labelled REEs as critical raw material (CRM) and ranked them with the highest risk of supply. To increase Europe's autonomy in rare earths, the block's strategies address the entire value chain and aim to place EU in the position of world leader in the Circular Economy of REEs. In the given scenario, the European Commission presented an advanced framework for the collection schemes and recycling of REEs. However, despite this opportunity, there is still no industrial recycling activity of REEs in Europe.
During the discussion at the SecREEts Final Conference, Nader Akil (Operations Manager, PNO Innovation Belgium) explained that the current idea of the REEPRODUCE project is based on the previous results obtained within the REE4EU project framework, which demonstrated the production of significant quantities of REEs. As a result, the project was able to dismantle manually permanent magnets from wind turbine generators, processed about 1 ton of spent permanent magnets and subsequently produced about 300kg of REOs and then REE metal alloys at a competitive cost.  
Even though the REE4EU project laid down the foundations for the innovative rare earth alloys (REA) production route from EoL permanent magnets, there is still a challenge to face: the management of large quantities of a variety of EoL products containing REEs. 
REEPRODUCE will go one step further as it aims to make an automated sorting of EoL products containing REEs and integrate an automated dismantling process in the waste processing line. 
To conclude, Nader Akil stressed that "to increase Europe's autonomy in rare-earth elements, we need to expand the EU REEs-recycling value chain and focus more on dismantling REEs from different types of waste". 
Know more about the latest results of the SecREEts project: